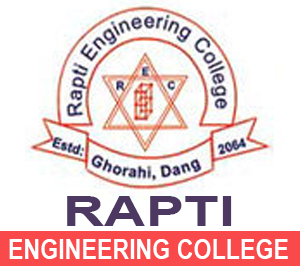 Rapti Engineering College
Dang, Ghorahi Sub-Metropolitan City, Ghorahi
Resham Giri Principal
I take great pride on welcoming you to our college on behalf of Rapti Engineering College (REC). Since its inception in 2008, REC has been focusing on providing high quality
education to students. REC was established in Mid-Western Region by dedicated Group of Academicians, Engineers & IT Professionals with the vision of building and developing the REC as a center of excellence for higher technical learning. Technical Education is the demand and necessi... See More
Resham Giri
Principal
Dear students,
21st century is the age of Information and Technology. Human brain is watching the world sitting on a single room. Activities of the world can be monitor very easily due to technology. To provide good guideline for youth, is responsibilities of their parents, teachers and nation. Education is the light, future and gateway of life. Students are the raw materials, we can make them as we wish. We have to provide them knowledge based education. Students have been reading... See More
Madhusudan Vaidhya
Director
Dear students,
Thank you for being near with Rapti Engineering college for your higher education. REC is one of the most essential independent private college of higher education in Rapti. Education is the backbone of the nation. For the development of nation technical education plays key role. Now, College has been running Overseer level Engineering in Computer. Bachelor in Computer Application (BCA) is running with affiliation to Pokhara University. New programs Civil, Electrical,... See More
Mr. Bhimsen Giri
Managing Director
REC is one of the modern academic institutions in Mid-Western Region Nepal. It was established in 2008 by a group of dedicated, technical, academic Engineering & IT professionals to meet the ever-growing need of quality higher education. It wishes to provide latest technological and engineering courses of global standard. The college has been running Bachelor of Computer Application (BCA) since 2010, Bachelor of Civil Engineering and Bachelor of Electronics and Communication since 2011 under affiliation of Pokhara University. Diploma in Computer Engineering, TSLC in Survey Engineering, TSLC in Civil Engineering and TSLC in Electrical Engineering under affiliation of CTEVT.
Faculty
Engineering
Course
Bachelor of Civil Engineering
Course Duration
4 Years
Course Fees
NRs./-
Course Description

REC has been offering Bachelor level program in Civil Engineering with its state of art infrastructure in the mid-western region, Dang. The objective of this course is to train students developing technical and analytical skills required to enable them to function and practice as professional civil engineers on all aspects of physical infrastructure development related civil engineering works such as design, construction, operation and maintenance services. The students choosing this program undergo systematic theoretical and practical learning in the arena of material engineering, structural engineering, environmental engineering, transportation engineering, water resources engineering, water supply and sanitation engineering, foundation engineering, geotechnical engineering and surveying. During the end of the study, they will be able to develop hands on skills to deal and cater with broad range of infrastructure development tasks and play vital roles for the national development.

Career Opportunities

Being civil engineering graduates (Civil Engineers) of this program, they will have a good opportunity to take part in the infrastructure development of the nation. Nepal being a developing country, it has to build various infrastructures requiring development of huge number of highway and railway projects, airport, hydropower projects, irrigation projects, water supply and sanitation projects, building projects (residential, official, commercial, hospitals, schools and colleges, colony housing and apartments etc).Thus, Civil Engineers have major role to play in such projects through surveying, planning, designing, estimating, construction supervision and routine maintenance works. Civil engineer can build their career in their chosen field as a:

*Civil Engineer

*Project Engineer

*QA / QC Engineer

*Property Valuator

*Planning Engineer

CAD Designer

*Material Engineer

*Surveying Engineer

*Construction Engineer and many more.

Qualified Civil Engineers will have high potential of employment opportunities in the following organization for their future career development:

Government Sectors

*Department of Roads

*Department of Civil Aviation & Authority

*Department of Irrigation

*Department of Water Supply & Sanitation

*DOLIDAR

*DDC Offices in 75 Districts

*Suspension Bridge Division

* Department of Urban Development & Building Construction

* Nepalese Army

*Nepal Police & Armed Force

*Metropolitan City Corporation *Sub metropolitan City Corporation

*Municipalities (All)

*Department of Archaeology

*Nepal Planning Commission & All Concerned Ministry including Regional Offices

*Nepal Electricity Authority

Non Profit Making Organization

*NGOs & INGOs *Research Organization *Academic Institutions (Universities & Colleges)

*Diplomatic Missions Residing in Nepal

Corporate & Private Organizations (National & International)

*Consulting Firms

*Contracting Companies

*Housing & Real Estate Companies

*Nepal Telecom

*Infrastructure Developers (e.g. Hydro Power, Fast Track Projects etc)

Eligibility for Admission

Student seeking admission to Bachelor of Civil Engineering must have completed Intermediate in Science (I.Sc.), +2 Science (Physics or Biology) and Diploma in Engineering or equivalent, from recognized Institution, securing at least 2nd division marks

Syllabus
Apply Now
Faculty
Science & IT
Course
Course Duration
4 Years
Course Fees
NRs./-
Course Description

Fast growing information technology and communication systems have become vital /indispensable components of almost every organization's strategic plans. In this modern age of IT, many organizations and companies have been presence to take advantage of new information technologies and communication systems. They are looking for expert IT professionals who can apply principle of computer science to solve the real life problems & utilize the possibilities in the form of global village created by the interface between the business world and technology. Considering the great potential and lacking the qualified manpower in the nation, REC has been launching this BCA programs since 2010. As a result, students joining in this graduate program have exposed to various fields of computer applications and latest development in the Global IT industry.

Career

The BCA graduates of REC will get opportunities to build their career in association with software engineer, IT Consultant, IT Controller, System Designer, Management Information System and Project Management Expert. In more specifically speaking, they will have a lucrative career in the global IT industry and various organizations (including Banking Sectors). They can work in the various capacities such as:-

Software Developer
Programmer ( using object oriented programming)
Application Programmer
System Analyst / Programmer
Database Designer and Administrator
Networking Specialist
User Interface Designer
Web Designers
E-Commerce Executive
Computer Sales Support Professional
Multimedia Designer
Software testing & Quality Assurance Professional

In addition, BCA graduates will get access to join universities for obtaining more advance degree of their choice such as MCA, MIT, M.Sc.IT / M. Sc. Computer and MBA / EMBA.

Eligibility for Admission

Student seeking admission to Bachelor of Computer Application (BCA) must have completed Intermediate in Science (I.Sc.), +2 Science (Physics or Biology), Diploma in Engineering or equivalent, Math, Computer Science, Management with Math or Computer, Education Science from recognized Institution, securing at least 2nd division marks.

Syllabus
Apply Now