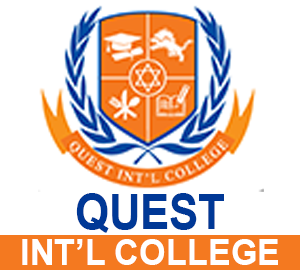 Quest International College
Lalitpur, Lalitpur Metropolitan City, Gwarko
Quest International College, established in 2009, has been situated in Lalitpur at Gwarko. Ideal setting for learning, it has been envisioned to remain as the center for Academic Excellence in management education and development by imparting quality management education, professional development skills and capabilities, and contributing significantly in the field of research and development.
At Quest, students actively engage in the challenges of today's global business with analytical and rigorous thinking. Students learn how to make decision, reason strategically and understand the dimensions of a business problem. Our faculty brings real-world, real-time knowledge to an unparalleled depth and breadth of courses.
It aims in pursuit of excellence to create a new, more global and more productive result engaging experiences for students. Quest offers the latest approach in teaching in the area of business, leadership, and management education, and to business research.
It is an applied Management School targeted for aspirants who want to build enterprises on their own as well. It aims at producing future businessmen, top global executives, and bankers, managers who can handle government and private organizations efficiently.
Faculty
Management
Course
Bachelor of Business Administration (BBA)
Course Duration
4 Years
Course Fees
NRs.582000/-
Course Description

The curriculum for BBA under Pokhara University is structured in a way that suits your academic background and career aspirations. It is a judicious blend of multidimensional insights, which enables a coherent understanding of new emerging trends of the world. The university maintains this by revising syllabus according to the demand of the global society.

ADMISSION PROCEDURE

Eligibility to Apply: +2/Intermediate/ +2 Equivalent Degree with minimum Second Division/45%
Admission Process:

Submission of duly completed application form, Xerox copy of all previous degree credentials

QUMAT(Quest Undergraduate Management Admission

Syllabus

| Semester I | 15 credits |
| --- | --- |
| English I | 3 Credits |
| Business Mathematics I | 3 Credits |
| Financial Accounting I | 3 Credits |
| Principles of Management | 3 Credits |
| Computer and IT Applications | 3 Credits |

| Semester II | 15 credits |
| --- | --- |
| English II | 3 Credits |
| Business Mathematics II | 3 Credits |
| Financial Accounting II | 3 Credits |
| General Psychology | 3 Credits |
| Introductory Microeconomics | 3 Credits |

Semester III
15 Credits
Business Communication
3 credits
Business Statistics
3 credits
Essentials of Finance
3 credits
Fundamentals of Sociology
3 credits
Introductory Microeconomics

3 credits

Semester IV15 creditsBusiness Communication II3 creditsData Analysis Modeling3 creditsFundamentals of Organizational Behavior I3 creditsPrinciples of Marketing3 creditsFinancial Management3 credits

| Semester V | 15 credits |
| --- | --- |
| Basics of Managerial Accounting | 3 credits |
| Business Research Methods | 3 credits |
| Management of Human Research | 3credits |
| Fundamentals of Operations Management | 3 credits |
| Concentrations | 3 credits |

| Semester VI | 15 credits |
| --- | --- |
| Introduction of Management Information System | 3 credits |
| Legal Aspects of Business and Technology | 3 credits |
| Business and Society | 3 credits |
| Project Work | 3 credits |
| Concentrations | 3 credits |

Semester VII
15 credits
Business Environment in Nepal
3 credits
Fundamentals of Entrepreneurship
3 credits
Internship
3 credits
Elective I
3 credits
Concentration III

3 credits

| Semester VIII | 15 credits |
| --- | --- |
| Strategic Management | 3 credits |
| Introduction of International Business | 3 credits |
| Essentials of e-Business | 3 credits |
| Elective II | 3 credits |
| Concentration IV | 3 credits |

Apply Now Download Brochure
Faculty
Management
Course
Bachelor of Hotel Management
Course Duration
4 Years
Course Fees
NRs.682000/-
Course Description

QUEST INTERNATIONAL COLLEGE offers the Bachelor in Hotel Management (BHM) program affiliated to Pokhara University spread over eight semesters for four years. It relates to hospitality industry, which is one of the fastest growing sectors in the world and it is projected to grow even bigger in the future. The job scope of the graduates in this sector ranges from hotels, resorts, restaurants, catering, clubs, pubs, food and beverages related businesses, banks, international cruises, marketing, airlines, embassies to any travel and tourism related organizations.

PROGRAM OBJECTIVES: BHM

Occupy supervisory positions in the hotel and catering industry with adequate background of management functions
Acquire technical and social knowledge and skills required for professional handling of hotel and catering operations
Plan and prepare food buffets
Apply management skills for greater economy and success of business operations
Set standards for quality assurance of the services offered to customers
Develop positive attitude towards the trade with greater initiative and self confidence in handling the operations and
Become a successful entrepreneur in small/medium sized enterprise

ADMISSION PROCEDURE

Eligibility to Apply: +2/Intermediate or equivalent degree from any Discipline in Second Division/CGPA 2.0/4.0
Admission Process:

Submission of duly completed application form, Xerox copy (1 each) of transcripts of all the previous degrees

QMAT (Quest Management Admission Test) based on GMAT

Syllabus

| Semester I | 22.5 Credit Hours |
| --- | --- |
| Fundamentals of Tourism and Hospitality | 3 Credits |
| Food Production & Patisserie (Theory) –I | 3 Credits |
| Food Production & Patisserie (Practical) –I | 1.5 Credits |
| Food & Beverage Service (Theory) –I | 3 Credits |
| Food & Beverage Service (Practical) –I | 1.5 Credits |
| Accommodation Operation (Theory) –I | 3 Credits |
| Accommodation Operation (Practical) –I | 1.5 Credits |
| English I | 3 Credits |
| Principles of Management | 3 Credits |

Semester II
22.5 Credits
Food Production & Patisserie (Theory) –II
3 Credits
Food Production & Patisserie (Practical) –II
1.5 Credits
Food & Beverage Service (Theory) –II
3 Credits
Food & Beverage Service (Practical) –II

1.5 Credits

| | |
| --- | --- |
| Accommodation Operation (Theory) –II | 3 Credits |
| Accommodation Operation (Practical) –II | 1.5 Credit |
| English II | 3 Credit |
| Food Hygiene & Nutrition | 3 Credits |
| Basic Mathematics | 3 Credits |

| Semester III | 22.5 Credits |
| --- | --- |
| Food Production & Patisserie (Theory) –III | 3 credits |
| Food & Beverage Service (Practical) –III | 1.5 credits |
| Food & Beverage Service (Theory) –III | 3 credits |
| Food & Beverage Service (Practical) –III | 1.5 credits |
| Room Division Management (Theory) –I | 3 credits |
| Room Division Management (Practical) –I | 1.5 credits |
| Hospitality Accounting I | 3 credits |
| Introduction to Management Information System | 3 credits |
| Fundamentals of Sociology | 3 credits |

| Semester IV | 22.5 Credits |
| --- | --- |
| Food Production & Patisserie (Theory) –IV | 3 credits |
| Food Production & Patisserie (Practical) –IV | 1.5 credits |
| Food & Beverage Service (Theory) –IV | 3 credits |
| Food & Beverage Service (Practical) –IV | 1.5 credits |
| Room Division Management (Theory) –IV | 3 credits |
| Room Division Management (Practical) –IV | 1.5 credits |
| General Psychology | 3 credits |
| Hospitality Accounting II | 3 credits |
| Business Communication for the Hotel Industry | 3 credits |

| Semester V | 18 credits |
| --- | --- |
| Hospital Human resource Management | 3 credits |
| Business statics | 3 credits |
| Business Research Method | 3 credits |
| Fundamentals of Financial Management | 3 credits |
| Hospitality Marketing | 3 credits |

Specialization 1 (chose one)
Advance Food & Beverage Management
3 credits
Advance Accommodation operation Management
3 credits

| Semester VI | 18 Credits |
| --- | --- |
| Fundamentals of Entrepreneurship | 3 credits |
| Tourism Business Environment | 3 credits |
| Tourism Economics | 3 credits |
| Strategic Management | 3 credits |
| Project Work | 3 credits |

Specialization 2 (choose one)
Advance Food Production Management
3 credits
Advance Room Division Management
3 credits

Semester VII
Internship

6 credits

Semester VIIIInternship6 credits

Apply Now Download Brochure
Faculty
Management
Course
MBA
Course Duration
2 Years
Course Fees
NRs.729000/-
Course Description

Master of Business Administration (MBA) at QUEST is an internationally recognized global degree spread over six trimesters for two years, affiliated from Pokhara University. The practical approach of learning at QUEST makes this program distinct among other graduate business schools in the country. The program is the perfect blend of managerial, leadership and entrepreneurial skills in terms of the outcomes.

MBA PROGRAM OBJECTIVES

The MBA program is designed to bring corporate change in Nepal through transformation of students into competent managers, executives, and entrepreneurs capable of becoming strategic change agents in the corporate and social world. The program focuses on developing social and developmental outlook and adequate skill in analysis, decision-making, implementation, leadership, and communication among the students. 
The specific objectives of the program are as follows:

To provide students a firm grasp of broad-based and integrated fundamentals of management with real-life applications.

To develop professional managers who can effectively lead an organization in a highly dynamic and competitive global business environment.

To provide student-centered learning environment where students acquire modern
management skills, enhance their managerial capabilities, and adopt success-oriented, career- focused attitudes.

ADMISSION PROCEDURE

Eligibility to Apply: Bachelor's Degree from any Discipline in Second Division-45% in aggregate/CGPA 2.0 in the scale of 4.0
Admission Process:

Submission of duly completed application form, Xerox copy of transcripts of all the previous degrees

Recommendation Letters from two referees.

PUMAT(Pokhara University Management Admission Test) based on GMAT format

Syllabus

| Trimester I | 12 Credits |
| --- | --- |
| Business Statistics | 3 Credits |
| Economic Analysis for Business | 3 Credits |
| Management Information System | 3 Credits |
| Financial Reporting and Analysis | 3 Credits |

Trimester II
11 Credits
Emerging Concepts in Management
2 Credits
Managerial Communication
2 Credits
Data Analysis for Decision Modeling
2 Credits
Macroeconomics and the Global Economy
2 Credits
OB and Leadership
2 Credits
Communication Skill:Practicum

1 Credit

| Trimester III | 11 Credits |
| --- | --- |
| Managerial Accountancy | 2 credits |
| Financial Management | 2 credits |
| Marketing Management | 2 credits |
| Human Resources Management | 2 credits |
| Business Research Methodology | 2 credits |
| E-commerce Practicum | 1 credit |

Trimester IV
11 Credits
Entrepreneurship and Innovation
2 credits
International Business
2 credits
Operations and Service Management
2 credits
Concentration I
2 credits
Concentration II
2 credits
Business Development Plan: Graduate Seminar

1 credit

| Trimester V | 11 credits |
| --- | --- |
| Concentration III | 2 credits |
| Concentration IV | 2 credits |
| Elective I | 2 credits |
| Elective II | 2 credits |
| Internship | 3 credits |

| Trimester VI | 10 credits |
| --- | --- |
| Business Environment Analysis | 3 credits |
| Strategic Management | 3 credits |
| Graduate Research Project | 3 credits |
| Corporate Governance: Graduate Seminar | 1 credit |

Electives
Tourism and Hospitality Management
2 credits
Bank Operations and Management
2 credits
Insurance and Risk Management
2 credits
Real Estate Management
2 credits
Management of Technology
2 credits
Business Tax Planning
2 credits
Project Management
2 credits
Multinational Management
2 credits
Social Entrepreneurship
2 credits
Strategies for Sustainable Management
2 credits
Management of Service Sector Organizations
2 credits
Productivity Perspective in Management Development
2 credits
Rural Marketing and Agribusiness
2 credits

Apply Now Download Brochure