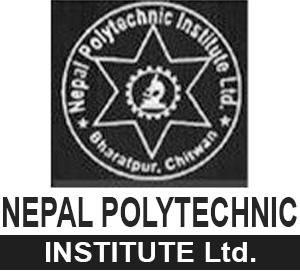 Nepal Polytechnic Institute
Chitwan, Bharatpur Metropolitan City, Bharatpur
Towards Quality Higher Education In Pleasant Environment Respected Guardians and Dear Prospective Students Greetings !!
I would like to welcome you in the premises of this prestigious academic institution at Bharatpur. Since Its establishment in the year 1996, we have been working hard to meet the country's demand of technical manpower in Agriculture, Engineering, Medical and Veterinary Sciences. NPI has a distinguished experience of over 23 years in quality education inte... See More
Prof.Dr. Durga Datta Dhakal
Chairman
"Quality First" policy
It is my great pleasure to write the message as Managing Director of this prestigious academic institution in the town. l have been working as a Managing Director to serve this network with a single vision of updating it to deliver the best pragmatic education for the prospective youths. Ever since this college made its presence in the society, it has realized the societal responsibility of educating our graduates with the kind of technica... See More
Er. Baburam Upadhaya
Managing Director/Campus Chief
Established in 1996 in Bharatpur, Chitwan, Nepal Polytechnic Institute (NPI) is a first public limited company of its kind registered under Nepal Company Act 2021 B.S. and Nepal Industrial act 2049 BS.
The institute was established mainly to produce low to high level human resources in the area of natural resource management, engineering, environment, management and medicine within a single umbrella so that coordinate efforts could be made to produce quality human resources trained in different disciplines.
Its sister organization National College of Technical Sciences offers various TSLC programs. Its the largest technical institute in Nepal offering various courses with the affiliation of CTEVT and Purbanchal University (PU).
The institute offers several infrastructure and facilities so as to provide skill-based knowledge to the students in various disciplines like Engineering and Agriculture and Health Sciences. The institute own three different Campuses of its own.