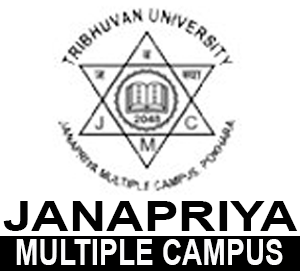 Janapriya Multiple Campus
Kaski,
Janapriya Multiple Campus (JMC) is an assembly of prominent scholars, educationists, professionals and social activists working together as a team to create an institution for quality education for those students who really want to excel and achieve something special in their life professionally.
The two decades excellence of the campus now has become synonymous to innovative teaching learning activities. The campus management is committed to carrying out the dream and vision of its... See More
Biranji Gautam 
Campus Chief
Thank you very much for your interest of getting informations about JMC. We welcome students' prudent decision of joining this institution where they will be going to be a part of a vibrant learning community which is well known for its high quality education and excellent student support activities in the country as well as abroad.
We are proud of our students, teaching and management staffs as well as our local academicians and social activists for having created a history of b... See More
Chairman
Chairman
Janapriya Multiple Campus (JMC) was established in 1991(2048B.S.) with joint venture of 14 academicians, local philanthropists, and local social organizations such as Srijana Vikas Kendra. It is a non-profit making academic institution with broad objectives of supporting the development of skilled and dynamic human resources to meet the challenges of education in the 21st century in various sectors. JMC is affiliated to Tribhuvan University, Nepal.

JMC has a glorious history of presenting excellent performance in public education with well experienced faculty members. Now it has become a QAA certified institution heading towards Deemed University. The campus has been offering Bachelor's and Master's programs in Management, Humanities, Science, and Education. Now, we have MBS (semester system), MA in English and Sociology, BBA, BBS, B. Sc. (Micro-biology), and B. Ed.

JMC achieved QAA certificate in 2013 and has recently won the National Education Award- 2072 being selected as the Best Community Campus in the country.