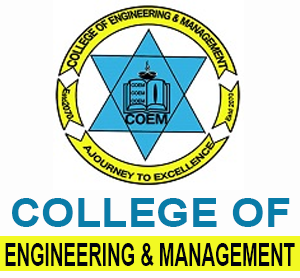 College of Engineering and Management
Banke, Nepalgunj Sub-Metropolitan City,
I feel proud to have established College of Engineering and management [COEM] in Nepalgunj with Bachelor of Civil Engineering (B.E.) Course and BEIT which are fast emerging as most sought after Engineering Undergraduate degree and is considered as an essential qualification for entry into the engineering world. Visualizing the importance of a BE College in Mid and Far Western Region we have pioneered COEM as a centre of academic excellence well nurtured by a cohesive team of experienced facul... See More
Er. Kiran Bandar. Shah
Chairperson
Dear Guardians and students,
College of Engineering and Management has been set up with a view of imparting quality education. And it has been possible only through the contribution of highly competent and professional faculties, ever inspiring Board, Engineering Team and existing academic and physical infrastructure. The college is committed to the comprehensive course in the field of Engineering through training, seminars, fieldwork, guest lectures, research activities etc. The colle... See More
Principal
Principal
Introduction
College of Engineering and Monagement (COEM) was established in 2013 with mission " to provide quality education for leadership" and is located in ward No 10, Shitanagar. Banke.
The College has its own building equipped with all accademic prerequisites and tied up with "Pokhara University", Nepal.
COEM with its motto "A journey of Excellence" ensures the quality education through the success of its bonafide students.
COEM proudly announces higher pass percentage in Board exams.

Our Mission
College of Engineering and Management is committed to serve different social communities & nation by imparting both practical & theoretical knowledge to its students with the sole purpose of ensuring them for employment & service in future. The college aims to provide competent & quality education in preparation of engineering personnel.

Our Vision
College of Engineering and Management is committed the Production of skillful Engineering professionals that well be technically sound. generous & idea giver. Work force produced from this college will be tremendous asset for nation in the engineering field.
Teaching Method
The teaching methodology adopted by the college Incorporates a blend of lectures, class discussions and practical classes with classroom presentations project works Audio-Visual presentations demonstrations and special talk programs, field work case study internship site- visit assignments. seminar and other practical on Periodic class tests mid-term and sent up examinations help student to be prepared for all sort of evaluation.
Faculty
Engineering
Course
Bachelor of Civil Engineering
Course Duration
4 Years
Course Fees
NRs./-
Course Description
Syllabus
Apply Now
Faculty
Engineering
Course
Bachelor of IT Engineering
Course Duration
4 Years
Course Fees
NRs./-
Course Description
Syllabus
Apply Now