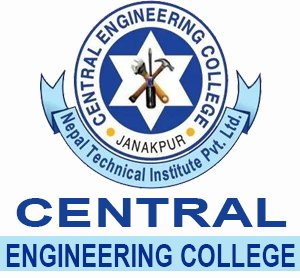 Central Engineering College
Dhanusha, Janakpur Sub-Metropolitan City,
First motto of our collage is "QUALITY EDUCATION IS OUR COMMITMENT" started in 2053 B.S. by name of Nepal Technical Institute Pvt. Ltd with various technical ( Engineering/ Health/ Management) courses.
At now Central Engineering Collage is offering Bachelor in Civil Engineering – 4 Years affiliated to Purbanchal University (P.U) and Nepal Technical Institute is enrolling Diploma in Civil Engineering -3 Year, Diploman in Electrical Engineering – 3 Year, Electr... See More
Bijay Kumar Jha
Chairman
Dear
Gardians/Students,
To meet the challenges of the global and competitive environment, we all as individual and as institutions have to make a Trans- cultural impact. The need of the hour is to prepare men and women as change masters, with a passion for innovation and ability to lead in the challenging environment .
The NTI/CEC/TEMC Group was started in 1998 with the intent to impart quality education int the field of Technical , Engineering, Management and He... See More
Ranju Jha
vice chairman
Central Engineering Campus is located at Balkumari, Lalitpur. It was established in 2010 A.D. with affiliation to CTEVT. The campus has been producing qualified engineers in the country who are the backbone of development. The aim of the CEC is to provide quality-engineering education and produce qualified engineering graduates.
The college offers Technical SLC in Civil Engineering, Technical SLC in Electrical Engineering, Diploma in Civil Engineering, Diploma in Electrical Engineering and Diploma in Architecture Engineering.
Central Engineering Campus has maintained all its academic programs as per the standard laid down by CTEVT. It assures quality education required for the students in the present context, and assists them in pursuing their professional and educational goals. Campus have shown professionally competence in communication and information technology.
The college has many distinguished scholars on its faculty honored by their peers for important contribution and good performance to the filed they study. Interaction with these experienced, motivated and hard-working educators offer students the best possible foundation to execute their creativity, skills and academics in a world where ideas and technology mesh.
Central Engineering Campus (CEC) has accorded equal priority to extracurricular activities. Inter Campus and Intra Campus sport competitions are held every year.
Vision:
To exploit the capacity of students in Nepal to contribute in the overall development of the nation.
Mission:
To create a learning environment where students discover their hidden potentials ans creativity to become successful engineers. The college believes that every student is capable of contributing towards a positive social synergy.
Goal:
To produce qualitative and intellectual and skilled human resource in the technical field who can adhere with the dynamic world where knowledge becomes absolute as reality changes.
Faculty
Engineering
Course
B.E. Civil
Course Duration
4 Years
Course Fees
NRs./-
Course Description

For a developing country like Nepal , there is a huge demand of technical manpower in establishment of physical infrastructure. To help meet this demand, department of civil engineering , is producing quality Civil Engineer / Overseer fully capable as well as dedicated to the development nation and world.

Eligibility for Admission

Admission criteria and procedure are as prescribed by the Purbanchal University.

Qualification: 10+2 Science, Intermediate in Science, Diploma engineering ( Minimum 45% Marks secured)

Goal of Bachelor in Civil Enginerring

The civil engineering degree program seeks to prepare students to be successful professionals recognized for their:

Critical thinking and problem solving based on a fundamental knowledge of humanities, social sciences, mathematics, science , engineering science and board range of civil engineering technical areas.

Consideration of global and societal concerns, ethics, and sustainability when making engineering decisions.

Leadership and effective communication.

Civic engagement and contributions to society and Pursuit of lifelong learning and professional development.

VIEW COURSE DETAIL

FIRST SEMESTER

BEG | 01 SH: Engineering Mathematics -1

BEG | 04SH: Chemistry

BEG | 46ME: Engineering Drawing-1

BEG | 48ME: Workshop Technology

BEG| 56CI: Applied Mechanics-1 ( Static)

BEG | 59CI: Construction Materials

BEG | 75CO: Computer Concept & Programming

SECOND SEMESTER

BEG | 02SH: Mathematics-II

BEG | 03SH: Physics

BEG | 47MC: Engineering Drawing-II

BEG | 57CI: Applied Mechanics-II (Dynamics)

BEG | 05SH: Communicative English

BEG | 49ME: Fundamental of thermodynamics & Heat

BEG | 55CI: Building Construction

THIRD SEMESTER

BEG20: Mathematics-III

BEG226El: Electric Circuit & Machines

BEG255CI : Engineering Geology

BEG2556CI : Strength of Materials

BEG258CI : Survey-1

BEG261CI : Fluid Mechanics

FOURTH SEMESTER

BEG203SH : Probability & Statistics

BEG210AR : Fundamentals Of Architecture

BEG259CI : Survey-II

BEG262CI : Hydraulics

BEG263CI : Engineering Hydrology

BEG265CI : Theory of Structure-I

BEG296MS: Research Methodology

FIFTH SEMESTER

BEG351 CI : Concrete Technology and Masonry Structure

BEG352CI : Soil Mechanics

BEG353CI : Survey Camp

BEG354CI : Theory of Structure-II

BEG356CI : Transportation Engineering-I

BEG355CI: Water Supply Engineering

BEG370CO : Numerical Methods

SIXTH SEMESTER

BEG36I6I : Design of Steel & Timber Structure

BEG 362CI : Foundation Engineering

BEG363CI : Irrigation Engineering

BEG363CI : Sanitary Engineering

BEG365CI : Transportation Engineering-II

BEG395MS : Engineering Economics

SEVENTH SEMESTER

BEG450CI : Estimating & Valuation

BEG415CI : Design of RCC Structures

BEG490CI : Applied Sociology

BEG453CI : Hydro-power Engineering

BEG495MS : Construction Project Management

BEG454CI : An Introduction to Earth Engineering

BEG 464CI : Elective - I

EIGHT SEMESTER

BEG455CI : Safety Engineering & Disaster Risk Management

BEG456CI : Engineering Professional Practice

BEG457CI : Civil Engineering Project

BEG453CI : Elective - II

BEG4925MS : Elective -III

Syllabus
Apply Now
Faculty
Management
Course
Bachelor of Business Administration (BBA)
Course Duration
2 Years
Course Fees
NRs./-
Course Description

The Bachelor of Business administration (BBA) course is designed by purbanchal University to develop socially responsive, competent , and creative and result oriented management professionals in order to fill up the middle level managerial position in this rapidly growing managerial sector of the business in Nepalese organization and abroad.

BBA is a four – years (eight semester), 129 credit hours academic program of purbanchal university that enables students in understanding and developing the unique leadership qualities required for successfully managing business functions, an organizational unit of an enterprise. Currently Thirty one Business School offers BBA program in affiliation with Purbanchal University in Nepal.

This program is based on the principle that graduates will spend a major part of their life in a changing environment. Therefore , the students should have an opportunity to enhance their knowledge in a way that enriches their competitiveness , aptitude , moral fiber and passion to prepare them for professional challenge of their career and life. The Bachelor of Business Administration program aims to develop a student's intellectual ability , executive personality and managerial skills through and appropriate blend of business and general education.

Eligibility:

Those students who have completed +2 Degree in management and Science may apply. The applicant should appear and pass written entrance test taken by the University . Finally , he or she has to appear on personal interview conducted by particular collage in which the want to enroll.

SEMESTER FIRST

15 credits

Business English

Business App. of Computer

Financial Accounting I

Applied Mathematics

Business Org. & Mgmt.

SEMESTER SECOND

18 credits

Marketing Management I

Statistical Application

Org. Structure and Processes

Managerial Communication

Financial Accounting II

Micro Economics

SEMESTER THIRD

18 credits

Financial Management I

Quantitative Analysis

Cost Accounting

Behavioral Science

Macro Economics

Marketing Management II

SEMESTER FORTH

18 credits

Small Business entrepren

Business Environment

Organization Behaviour

Research Methods

Managerial Accounting

Financial Management

SEMESTER FIFTH

15 credits

Human Resource Management

Fundamental of Taxation & Auditing

Financial Institution

Report Writing

SEMESTER SIXTH

15 credits

Industrial Relations

Operation Management

Database Management

Consumer Behaviour

Specialization I

SEMESTER SEVENTH

15 credits

Mgmt. Information System

Production & Quality Mgmt.

Survey of Global Business

Organization Design

Specialization II

SEMESTER EIGHT

15 credits

Strategic Management

E-Commerce

Specialization III

Project Work / Internship

Syllabus
Apply Now